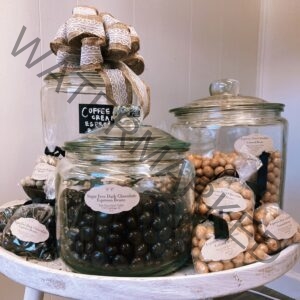 Every outing, no matter if it's a day trip or longer, includes food and drink. Whether it's an indulgent experience or a casual one, we want to share some options for the bites between meals – snacks, charcuterie plates, and pop-up picnic breaks. 
SNACKS AND EDIBLE SOUVENIRS
We often pack a cooler, chairs, and road trip snacks, but what about the ride home? Consider bringing an empty cooler and stocking up on some good food for the journey home, as well as a few items to enjoy later or share with family and friends. Chocolate, cheese, honey, truffle oil, jam, and barbecue sauce are just a few local items among the many you can find throughout our area.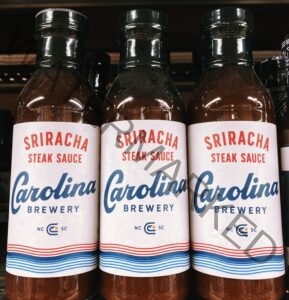 Gourmet foods from Southern Supreme make great snacks, edible souvenirs, or gift basket additions. Shop their signature nutty fruitcake, chocolates and candies, baked goods, jellies, nuts, and more. If you can't make the trip out to Bear Creek, Siler City Pharmacy offers a limited selection of their items.  
Satisfy your sweet tooth with a stop at Chocolate Cellar Deux for chocolates and confections. For the grill master in your life, or to add some southern "flare" to your next cookout or backyard barbecue, be sure to pick up rubs and sauces from Cackalacky and Carolina Brewery & Grill. 
A CHATHAM CHARCUTERIE BOARD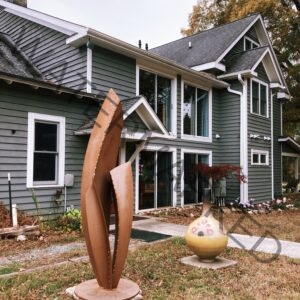 Craft a unique charcuterie plate with award-winning Chatham products. Ms. Ruth's Jams and Fiddlehead Farm have both won several Good Food awards for their jellies and jams. Another lauded brand from our area, Rocky River Bees, recently received a State Fair Blue Ribbon for their honey. Balance these sweet accoutrements with savory truffle sauces and spreads from Truffletopia.  
No charcuterie board is complete without cheese. Pair these spreads with Celebrity Dairy's Chevre goat cheeses, available pure or flavored with herbs, spices, and fruits. The farm also makes fudge, gelato, and soap. Sipping some of our local craft beverages – wine, mead, spirits, and beer – is the perfect way to round out your experience. 
PACK A PICNIC
Venture to Jordan Lake State Recreation Area, the American Tobacco Trail, or one of our many other natural areas and trails for a hike or bike ride – a great way to celebrate #YearOfTheTrail. Then reward yourself with a pop-up picnic featuring some or all of the great products highlighted above.  
If you're seeking a lazy day in the sun or a romantic afternoon date, FireClay Cellars invites guests to pair their tastings with a picnic in the winery's gorgeous vineyard. There are also plenty of picnicking spots available outside Fair Game Beverage Company at The Plant, and both tasting rooms feature local products and light snacks.   
WHERE TO SHOP
In addition to finding these products directly from some businesses (or online ordering from their websites), you can also pick them up from our local markets and grocers, general stores, farmstands, and pharmacies. Many are available at Chatham Marketplace, Pittsboro's neighborhood co-op, and Chatham Meat Co, Siler City's pasture-to-plate butcher shop.  
Our farmers markets are open year-round and offer a great opportunity to meet some of these business owners as well as local growers and farmers. If you happen to visit on one of the few days our markets don't take place, you can also find these products at farm stands like Howard's Farm & Mema's Fruit Shack, Noel's Produce, and Jean's Neighborhood Market. 
Wherever your journey through Chatham County takes you, you're sure to be near a general store or pharmacy that carries some of our local products. A few include JR Moore & Son, Pittsboro Feed, 501 Pharmacy, Ray's Supermarket, and Aidan's Trading Post.