by Julia Egler
Our area has many outdoor nature options for the summer (and year-round). Hikes, for wellness, fresh air, meetups, quality time with family or friends, and self care are among only a few reasons guests visit our trails. Training for marathons, birding, and exploring the scenery are additional draws.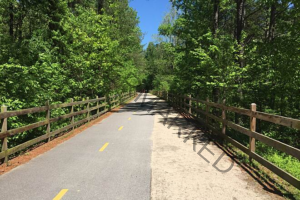 Here are a few popular sites for your next hike:
Easy trail to either walk or explore on bicycle (or horse), the American Tobacco Trail is both historic and an idyllic green space. It is 22 miles long, with 4.5 miles of this multi-county trail in Chatham County.
A more secluded and scenic hike that is easy as well is the Pittsboro Lake Park Trail, which takes approximately 30 minutes.
Loves Creek Greenway is as soothing and as pleasant as the trail's name. Run, explore, walk, or ride a bicycle here. The Town of Siler City offers numerous options and welcomes guests.
Family hikes or group outings are a hit at White Pines Nature Preserve, with seven different trails, each approximately one mile. Guided tours are available on occasion.

Hikes encompass much more than a picnic at the end or a number of photo ops. A forest-bathing experience, place for birders to spot a bird on their list, and a green sanctuary are additional purposes for traveling to a trail. Bucket lists and badges are fun ways to reward and offer anecdotes to friends and family, too.
Jordan Lake Educational State Forest has three different trails, the "Talking Tree" Trail, Forest Demonstration Trail, and Wildlife Trail. All the trails are dog-friendly (on a leash, please). The Talking Tree Trail is approximately half a mile and should only take 25 minutes to complete. The Forest Demonstration Trail is a little longer, about two miles, and should take an hour, and the Wildlife Trail is three quarters of a mile.  
Guests seeking a more challenging trail find the Lower Haw River Trail, with seven miles of appealing landscape. It is also popular for fishing, hiking, and trail running. Dogs are also welcome with a leash.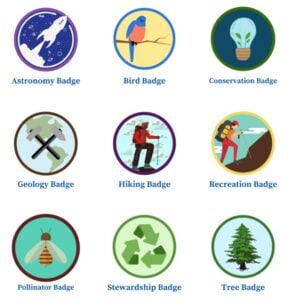 Appreciate the trails of our area and consider the principles of Leave No Trace when hiking. Make sure to also stay on the path to avoid erosion.
Maps and Apps