Significance of nature for wellness by Julia Egler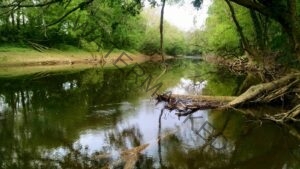 Exploring the outdoors is so important to our wellness and a significant part of many of our guests' itineraries. According to the American Psychological Association, "exposure to nature has been linked to a host of benefits, including improved attention, lower stress, better mood, reduced risk of psychiatric disorders and even upticks in empathy and cooperation." A number of articles provide a similar message and it's obvious that there are several benefits to being outdoors, especially when visiting a new place.
For our destination, Jordan Lake State Recreation Area is a wonderful place to visit for its varied outdoor activities; it's a site that offers opportunities to be active or simply relax in the sun or indulge in mild adventures. Guests can make reservations for a campsite on their website. Jordan Lake also has options for swimming on the beach, trail hiking, and boating.
When visiting a new nature space, it is crucial to think about the 7 principles, ways to respect our area and leave no trace, so everyone can continue to enjoy and hosts can continue to serve all guests in the future. Outline a few tips here (bullets):
Leave what you find 
Plan ahead & prepare 
Travel & camp on durable surfaces 
Minimize campfire Impacts 
Respect wildlife 
Be considerate of others  
Dispose of waste properly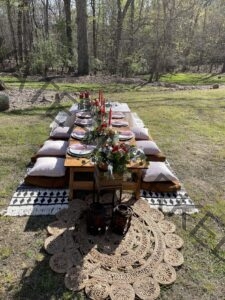 Also, before going swimming, one should focus on these water safety tips, including checking the weather beforehand, listening to safety signs, and always bringing a life jacket. Always feel free, contact the CVB or the nature site with questions.
Historic and steeped in natural beauty, the American Tobacco Trail, is amazing for biking, walking, or running. It is 22 miles long, with 4.5 miles in Chatham County. It crosses through Durham, Chatham County and Wake County.
Birding trail sites, hiking in nature preserves, cycling, nature photography on historic bridges, paddling, and picnicking are among the outdoor activities that abound in our area, perfect for more than one season. Visit us, train for marathons, and explore throughout the year.
We partner with what3words, which is an effortless way to communicate exact locations, whether that is spoken over the phone or into a car voice navigation system or typed into a taxi app or a website checkout page. This is a fun and functional way to navigate and find exactly where you want to go. Let us know how we can help plan your itinerary.