Support small businesses and your sweet tooth by Julia Egler
Summer is here, so indulge in a sweet treat or two! Bringing someone sweets in the summer is the best gift; even better, bring them to the sweets. Our area is filled with many options from ice cream to chocolates to pastries and some savory sides, too.
Creative Creamery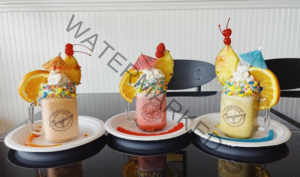 Creative Creamery is now open on weekends in historic downtown Siler City until 9:30pm. They have spectacular stuffed milkshakes, which include a variety of toppings and themed shakes to celebrate the season. They have a s'mores, banana split, and salty caramel truffle shake, plus scoops of ice cream flavors, and even some sugar-free options.
what3words: confides.ambushes.songbook
Willy's Cinnamon Rolls
Staying at one of our inns or Airbnb homes? Pick up hot, soft, and fresh cinnamon rolls at Willy's in Pittsboro, with coffee and hot chocolate, too. A family business with a sweet story, the children and grandchildren are carrying forward Willy's legacy by now running the family business.
what3words: organ.bottling.airbag
The Phoenix Bakery
The Phoenix Bakery has many different pastries that are made by hand daily. They also have specialty cakes for birthdays, celebrations, and weddings.
what3words: square.spur.grills
Carolina Cravings
Can't help but love the flavor of Flan Friday and other creations here, and from conchas to bolio bread, this place is a must-visit stop. what3words: raged.tropic.pronounced
The Belted Goat
Fearrington Village has a casual dining spot with pastries, The Belted Goat. They have chocolate croissants, pancakes, and fried chicken biscuits.
what3words: glide.escalated.popup
Southern Supreme
Southern Supreme is known for their famous nutty fruitcake. They also have candy, chocolate, jelly, and baked goods and this family-owned, family-operated small business is a phenomenal small business success story. Take a tour, sample sweets, and find a multitude of edible souvenirs.
what3words: pictures.negligent.interacted
Chocolate Cellar Deux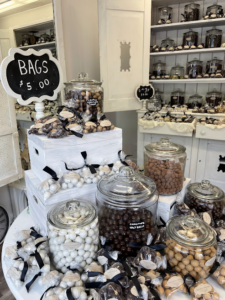 There is a new chocolate shop that just opened on June 10th. They have all types of chocolates from simple milk chocolates to extravagantly infused truffles. They also have chocolate covered bars, Oreos, and even Twinkies! Their main shop is in Sanford, but now they have made another shop in downtown Pittsboro.
what3words: cherish.unreasonable.generously
S&T's Soda Shoppe
Much more than sweets, this nostalgic eatery offers a sundae that's more than Insta-worthy. what3words: thrashed.surpassed.aided
Visiting for one of our events? Check out Maple View Mobile and Vintage Scoops. Beyond these places for desserts and treats to take home, coffee shops abound, offering pastries and hot and cold coffee, tea, and refreshers.
Find your sweet spot with what3words. Let us know how we can help plan your itinerary.