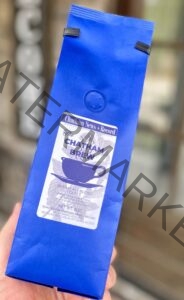 Mornings or afternoons, our coffee shops have plenty of caffeine to offer guests. The pandemic has changed many ways our businesses manage their operations but for most of us, our fervent quest for morning fuel and afternoon refueling persists, no matter the workspace.
A cool coffee collaboration with our local newspaper and coffee roaster that caught our attention (say caffeine and we perk up) started a conversation about coffee with Bill Horner III, Publisher of the Chatham News + Record (CNR), to learn more about what they're brewing with Aromatic Roasters.
Much like our bed and breakfast inns and places to stay, our coffee shops have distinct appeal, from the baristas, speed in serving coffee, cafe atmospheres, outdoor seating, to the additional amenities, plus the variety of locally baked goodies.
The News + Record has created collaborations and partnerships with a number of entities in Chatham through different kinds of projects, so Bill thought: why not coffee? Kirk Bradley, his business partner, had told him that Aromatic Roasters has the best coffee he's ever had, (high praise that we love to hear about our coffee shops).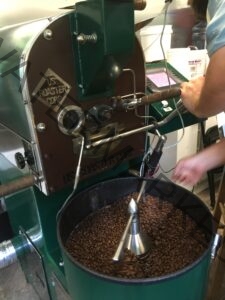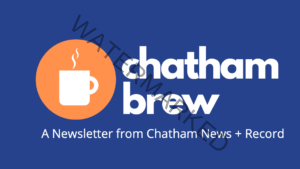 Aromatic Roasters does its own roasting and blending so Bill connected with Erin Munson, Managing Partner at Aromatic Roasters LLC, and since the CNR's thrice-weekly e-newsletter is called "The Chatham Brew," it was a perfect match in line with the CNR's branding.
The newsroom has a group of coffee lovers and one of their Tuesday (production day) rituals is to go to Chatham Rabbit (Siler City, N.C.) where owner and barista, Brooke Simmons, will make just the right coffee and caffeine combination to add some fuel to meet the press deadline.
Mornings now begin with the The Chatham Brew and everyone has their favorite standing order. Bill suggests a vanilla latte with oat milk.
Guests to our destination know their craft beverages and caffeine aficionados are equally discerning. Kirk Bradley provides a description of the Chatham Brew: "Bright and fruity as indicative of its central and Latin American sourcing, but with enough punch to get your day started, just like the Chatham News + Record."
Bill's take on his new morning go-to: "The flavor has great balance. I'm not a coffee snob, but just enough of a wine snob to apply wine tasting notes to The Chatham Brew. So I'd say it has a "rounded" flavor, balanced, with great mouth feel. I add heated almond milk, a drizzle of honey and monk fruit. When I'm up at 5:30 a.m. or 6:00 a.m. and ready to start my day, it's a great taste to wake up to."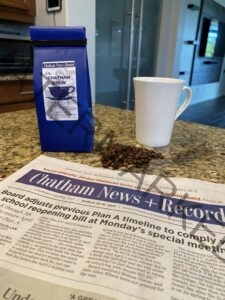 Currently, the coffee is an exclusive product for CNR advertisers and part of an upcoming promotion for new subscribers to the newspaper. Current subscribers can purchase a gift subscription for a friend or neighbor (promo rolls out soon).
It's important to Erin and the team at Aromatic Roasters to focus on freshness and quality (Bill adds that this is in line with the CNR's focus on fresh news and a quality product), so they're introducing it in limited quantities but may become a souvenir product or perhaps a morning blend available at our bed & breakfast inns (inserting the CVB's suggestions for them here).
Erin Munson has definitely made mornings better for the crew at CNR and Aromatic Roasters is worth the trip.