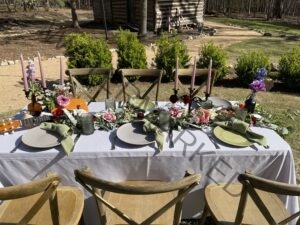 Style and sustainability meet this spring as brides take that significant walk down the aisle after much planning and an abundance of details. Planners have been managing trends for years, even the phases of the pandemic. Increasingly important to both brides and vendors, sustainable practices.
Making the spring and summer seasons even greener in color and year-round, with some sustainable best practices can vary in challenges. The Green Wedding Guild was formed by dedicated individuals, Emily Thomas and Maria Karagiannis, connecting brides with vendors and venues offering green services and spaces.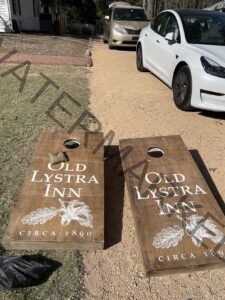 NC GreenTravel member, Old Lystra Inn, was the site of this sustainable styled shoot. The photo shoot was a collaboration between Green Wedding Guild and ElopeNC, which is an organization focused on elopements (which are inherently more sustainable).
The combination of nature and history at this venue, once the home of Paul Green, makes it an enviable eco-friendly space for brides. The Green Wedding Guild's styled shoot was designed to provide a space for vendors to set up on-site, brides and grooms to take photos, and an opportunity to create some mini-moments in advance of their big day, see what others are doing to make their day greener, and a way to enhance their already best practices for an environmentally-friendly occasion. Every angle at this historic and natural green space photographs beautifully, with colorful flowers adorning intimate tables for the bridal party, artists capturing the scene in real time. The themes included A Musician's Picnic, Bridgerton Inspired Garden Party, Strawberry Inspired Elopement, Emerald & Copper, and Red Rose Romantic.
Green Planning Tips
Check The Green Wedding Guild for the latest information and green vendors and venues.
Contact the convention & visitors bureau (CVB) in the destination of your wedding. We're here to help, offer resources for vendors and venues, provide information for your guests to explore, and provide you with lists of green businesses.
Eco-friendly invitations. Keepsakes are fantastic; digital is forever and budget-friendly, allowing you to spend more on other wedding expenses.
Check on local fresh flowers, even a special scavenger hunt or fun activity searching for pinecones and other items appropriate for a table setting, found naturally on hiking trails.
Something new is lovely, but old is memorable and sentimental. Something blue is special but go green with something borrowed, any time that it suits your theme.
Check with your caterer, social media wedding groups, and other resources to determine the best way to serve meals in a safe manner that regulations allow, possibly even an option for a take-home packaged item or to donate to a local shelter.
Check out local thrift shops and furniture stores for the decor items and adornments. Consider potted plants that you can later give away.
Make centerpieces multi-functional–offer a little gift (tiny succulent pots) for guests to take home and for items that serve as place cards.
Our farmers' markets and local vendors offer more than fresh flowers and produce. A little jar of jam (custom labels available) or soap for the bridal party from a local, homegrown vendor provides all with a memory and a useful souvenir (and one more keepsake rather than something guests will discard). Think stocking stuffers, no matter the time of year.
Green is friendly and supporting local is a part of it. Reducing the amount of travel for vendors, when possible, is a welcome boost for small businesses and entrepreneurs, plus an added personalization to a truly local experience.
Planning formal and fancy for the special day? Make the outings leading to the day full of frolic, with picnics, guided hikes, forest bathing, paddling excursions, etc., if it fits your style and interests. No need to rough it, but a picnic with a local charcuterie board and local wine and beer can be special, too. Opt for an activity, including a local chef offering a culinary class (available at your Airbnb or chef's studio).
Carry it forward, by providing the multiple-quantity items to your next friend or local bride, and look at eco-friendly honeymoon and lifestyle options as you begin your new chapter together.
A Musician's Picnic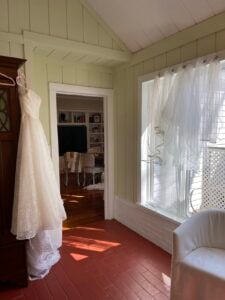 Bridgerton-Inspired Garden Party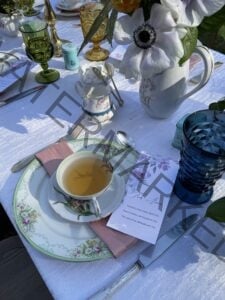 Strawberry Inspired Elopement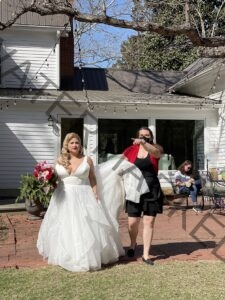 Emerald & Copper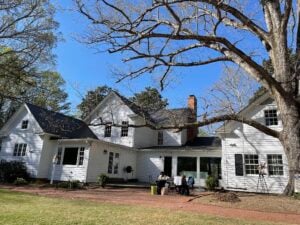 Red Rose Romantic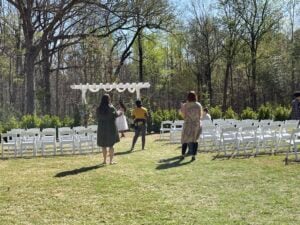 The Green Wedding Guild and Old Lystra Inn celebrate Earth Month every month. Contact them and the CVB for any assistance in planning your next occasion, meeting, visit, itinerary, etc.