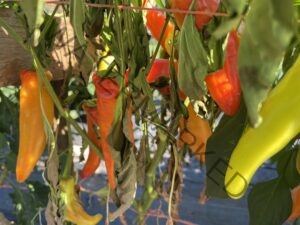 Farmers and foodies have an abundance of opportunities to grow in the Sustainable Agriculture program. Tomatoes in the greenhouse, picking peppers of vibrant colors, sharing a variety of basil–it's all part of the Student Organic Farm at CCCC.
Students with an interest in stewardship of natural and human resources find a wealth of knowledge and expertise with the instructors and the experiences at the Farm, which offers education, experiences for students to learn more about sustainability, and a landscape to give back to the community. Regenerative and organic practices are among the practices taught, alongside real-time challenges and solutions.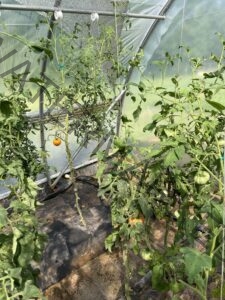 The Student Organic Farm has been so productive that in addition to providing for the student's, the culinary program and the CSA for faculty and staff, they still have a bounty of produce to donate; to date, the farm has contributed to CORA, Robin Hood's Kitchen, SAFE, St. Bart's community lunch, and more. Organic peppers, garlic, herbs, tomatoes, cucumbers, and additional produce serve as ingredients for a number of dishes.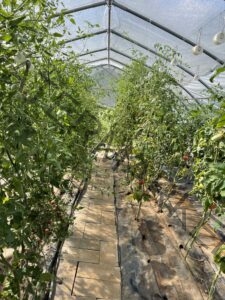 The Farm supplies certified organic produce to the Central Carolina Culinary Institute program year round and has a spring and fall CSA that serves CCCC faculty and staff. In the spring, the CSA also includes all  of the Advanced Agriculture students so that they cook what they grow. During the summer session, the Student Farm offers many weeks of open u-pick for faculty and staff and have an eight-week pop-up farmers' market on site. All of the "markets" are basically educational opportunities for the students.
Learn more about the program at CCCC.