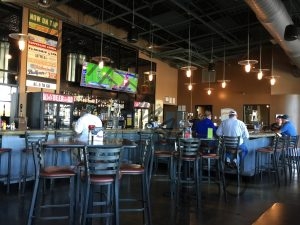 Carolina Brewery Pittsboro is a locally-owned brewery and restaurant that has drawn international attention for its handcrafted beers, all brewed in-house by Brewmaster Jon Connolly and his team.
Carolina Brewery Pittsboro events TBA
Carolina Brewery Pittsboro serves lunch, dinner, weekend brunch, and award-winning beer. In addition to housing brewing operations and the restaurant, the 9,000 square foot facility features an outdoor patio, private dining for parties, rehearsal dinners and events, as well as a conference room for meetings. Weekly tours every Saturday, year-round.
Carolina Brewery Flagship India Pale Ale won a Gold Medal in the 2006 Great American Beer Festival and the Copperline Amber Ale is a Gold Medal winner in the World Beer Championships. Both of these beers are offered year-round along with special limited edition seasonal specials. The core menu of burgers, soups, salads, pizzas, pastas, sandwiches and desserts is augmented by a special rotating menu with flavors and ingredients specific to the season.