Pay-What-You-Can Community Feast
October 16, 2022 @ 5:00 pm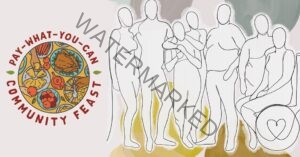 Join The Quiltmaker Cafe on Sun, Oct 16, at 5 pm for a Pay-What-You-Can Community Feast! Gather at The Plant under a fall sunset with friends new and old from the Chatham community. You'll enjoy amazing food, swap stories, and be a part of building beloved community. Plus, you'll get to practice the pay-what-you-can model — the core feature of The Quiltmaker Café, a new nonprofit, fast-casual restaurant coming to Pittsboro in Spring 2023.
Event organizers are requesting registrations to help estimate attendance. To register, you may either select a free registration or register with a pay-what-you-can donation. Alternatively, you can make a pay-what-you-can contribution on the evening of the event. Net proceeds will benefit The Quiltmaker Café.
The meal will be served family-style and include kid-friendly options.
Related Events