Author Events at McIntyre's Books
November 15, 2019 @ 2:00 pm

-

February 13, 2020 @ 5:00 pm
Author Events
More events at Fearrington Village. More about McIntyre's. Calendar of author events.
Wed, 11am – Preschool story time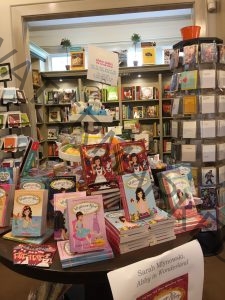 Story time for the Wee Ones — perfect for the three and under crowd. Make a day trip of it!
Friday, November 15th at 10:30am
Storytime for the Wee Ones
Today's theme: Meow!
Join McIntyre's for storytime with our littlest readers — babies, toddlers and preschoolers are welcome! Please contact the bookstore with any questions at 919.542.3030.
Saturday, November 16th at 11am
Anne Byrn, Skillet Love: From Steak to Cake, More Than 150 recipes in One Cast Iron Pan with Sheri Castle
For the love of food, don't miss this event. Samples, Lodge iron skillet raffle, and host Sheri Castle promise to make this event fun. Skillet Love is Anne Byrn's delicious celebration of the beloved cast iron pan, one of the most versatile pieces of equipment in the kitchen. Perfect for every meal of the day, the cast iron skillet can be used for everything from cooking eggs and searing meat to roasting whole dinners and serving up dessert warm from the oven. Plus cooking with a cast iron pan has proven health benefits!
Saturday, November 16th at 2pm
Mesha Maren, Sugar Run, and M. Randal O'Wain, Meander Belt
Join us for a joint reading and conversation with Mesha Maren and M. Randal O'Wain as they tough on themes of place and identity in their works from both rural and urban, fiction and nonfiction perspectives.
Saturday, November 16th at 4pm
Charles C. Ludington & Matthew Morse Booker, Food Fights: How History Matters to Contemporary Food Debates
What we eat, where it is from, and how it is produced are vital questions in today's America. We think seriously about food because it is freighted with the hopes, fears, and anxieties of modern life. Yet critiques of food and food systems all too often sprawl into jeremiads against modernity itself, while supporters of the status quo refuse to acknowledge the problems with today's methods of food production and distribution. Food Fights sheds new light on these crucial debates, using a historical lens. Its essays take strong positions, even arguing with one another, as they explore the many themes and tensions that define how we understand our food—from the promises and failures of agricultural technology to the politics of taste.
In addition to the editors, contributors include Ken Albala, Amy Bentley, Charlotte Biltekoff, Peter A. Coclanis, Tracey Deutsch, S. Margot Finn, Rachel Laudan, Sarah Ludington, Margaret Mellon, Steve Striffler, and Robert T. Valgenti.
Charles C. "Chad" Ludington is teaching associate professor of history at North Carolina State University.
Matthew Morse Booker is associate professor of history at North Carolina State University.
Sunday, November 17th from 11am-1pm
Kids Event: Pet Partners Read With Me
Meet Drew! Drew completed special training through Pet Partners to become a therapy animal. During these special Read With Me sessions Drew and his handler Miriam will be on hand so emerging readers can practice their skills. A therapy animal is an incentive, a motivational tool, and a non-judgmental listener…all in one! Read With Me sessions are designed for new readers, but we encourage all ages to meet this special team. Drew and Miriam will find a cozy spot in the mystery room to greet young readers.
Sunday, November 17th at 2pm
Ribbons of Scarlet: A Novel of the French Revolution's Women by Laura Kaomie, Eliza Knight and Heather Webb
Join us as three of the six bestselling and award-winning authors, who wrote Ribbons of Scarlet, come to McIntyre's to bring to life a breathtaking epic novel illuminating the hopes, desires, and destinies of princesses and peasants, harlots and wives, fanatics and philosophers—six unforgettable women whose paths cross during one of the most tumultuous and transformative events in history: the French Revolution.
Related Events