Author Events at McIntyre's Books
March 26 @ 2:00 pm

-

May 25 @ 5:00 pm
Author Events
More events at Fearrington Village. More about McIntyre's. Calendar of author events.
Wed, 11am – Preschool story time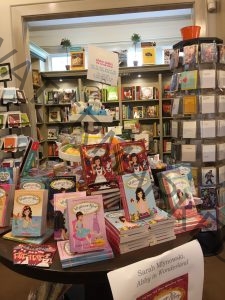 Story time for the Wee Ones — perfect for the three and under crowd. Make a day trip of it!
Tue, Mar 26. Fri, Mar 29. 10.30am Story time for the Wee Ones

Wed, Apr 3, noon
Literary Luncheon: Ruth Reichl, Save Me the Plums
This ticketed luncheon celebrates the release of Ruth Reichl's memoir, Save Me the Plums, and includes lunch with Ms. Reichl and an autographed copy of her memoir. We also welcome special guest host, Alicia Barry. Trailblazing food writer and beloved restaurant critic Ruth Reichl took the risk (and the job) of a lifetime when she entered the glamorous, high-stakes world of magazine publishing. Now, for the first time, she chronicles her groundbreaking tenure as editor in chief of Gourmet, during which she spearheaded a revolution in the way we think about food.
Complete with recipes, Save Me the Plums is a personal journey of a woman coming to terms with being in charge and making a mark, following a passion and holding on to her dreams—even when she ends up in a place she never expected to be. Tickets: $90, 919.542.3030.
Wed, Apr 24, noon
Literary luncheon with Anna Quindlen, Nanaville: Adventures in Grandparenting,and Shannon Ravenel
This ticketed luncheon celebrates the release of Ms. Quindlen's latest book, Nanaville,with a luncheon and discussion between New York Times bestselling author and journalist Anna Quindlen and Algonquin Books cofounder and former editor Shannon Ravenel on grandparenting. Candid, funny, frank, and illuminating, Quindlen's singular voice has never been sharper or warmer. With the same insights she brought to motherhood in Living Out Loud and to growing older in Lots of Candles, Plenty of Cake, this new nana uses her own experiences to illuminate those of many others.
Related Events