Sun, June 9, 3pm – 5pm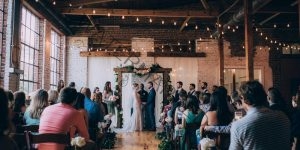 Tour our space, see it set up for a wedding and meet some of our very favorite vendors listed below! The event is perfect for engaged couples and their families and well as fellow wedding vendors!
Wedding Planners
– Harmony Weddings and Events
– Chesnut and Vine
Caterers
– Fords Fluent in Food
– City BBQ
– Catering Works
– Sassool
Bar
– Vintage Follies
Photographers
– Rose Trail Images
– Sarah Joann Photography
– Mina Von Feilitzsch Photography
Videographer
– Dogwood Media
Florist
– Folie a Deux Events
– Colorfields
DJ
– Vox DJ Co
– All Events DJs
Live Music
– Benjamin T Warner
Dessert
– 10 Blooms Cakes
– Cupcake D'amour
Rentals
– American Party Rental
– Get Lit Special Event Lighting
– Petal and Oak
Beauty
– Wedded Kiss
– Karen Michelle Clark
Officiant
– Stephanie Shaffer Ceremonies
Transportation
– Oak City Shuttle
Invites
– Cute Buttons
Forest Hall at Chatham Mills is a 3500 square foot hall located on 32 acres of lush forest right outside of the historic downtown of Pittsboro, NC. The hall is located in Chatham Mills, a large mill that now is home to a meadery, dance studio, jewelry store, and a community market. Outside of the hall is a meadow filled with wildflowers and trees which makes for a stunning backdrop for your ceremony. The hall itself has beautiful wooden floors, exposed brick walls, large windows, and fairy lights hanging from the exposed beams. Our open vendor policy allows for your day to be completely customizable and within your desired budget.
The hall is run by Nathan and Aneesa Glines, owners and lead planners of Harmony Weddings and Events. Their significant experience in wedding and event planning allows them to predict your every need and assist your special day to run smoothly.