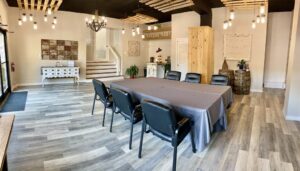 For Garden's Sake (FGS) offers a special event space suitable for a variety of gatherings. The cozy space, The Robin's Nest, is considered the perfect and quaint location for birthday parties, bridal showers, graduation parties, baby showers, holiday parties, work retreats, and more. FGS pricing options vary and include full-day rentals.
Located on a 20-acre site in the far northeast corner of Chatham County, the event space is easily accessible to guests in the Research Triangle Region.
Visit the Garden Center for indoor and outdoor needs, for decor for events, too. The lake is brimming with fish, turtles, and ducks; also at FGS, goats and chickens that guests feed (ask FGS for animal crackers, provided free). FGS is a local full-service garden center, offering landscape design and installation, and lawn maintenance services since 1999.  It is owned and operated by Scott and Marsha Pearce who have managed the day-to-day operations since 2010.
For Garden's Sake events and workshops are fun and informative for day trips, too.