Chatham County Historical Association museum guided tours: Wed – Fri, 11am to 4pm. Questions.
Sat, Dec 15, 2pm, 4:30pm
Miracle on Hillsboro Street
See the trial of the century at the historic Chatham County Courthouse, where Santa Claus is on trial. Enjoy audience participation, local actors and the real Kris Kringle! Root for a Miracle on Hillsboro Street! Admission is a $5 donation to benefit Chatham Communities in Schools. Children under 6 are admitted free. Seating is limited, so advanced ticket purchase is encouraged.
Images and artifacts from the historical association's collections are on display. In the Chatham Historical Museum exhibit room, in the northeast corner of the first floor, each wall reflects a major theme. On the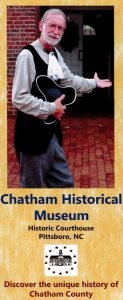 west wall a time line starts before European settlement and leads through panels to illustrate colonial times, the early 1800s through the Civil War, recovery and industrial innovations, and modern changes.
"Voices of Chatham," on the north wall, features the people of the county — from "just folks" to their heroes and leaders, including a special tribute to veterans. The voices of an early settler, a woman, and an African-American will speak about their roles in history.
On the east wall, the stories of Chatham schools, churches, country stores and towns–past and present–is woven into a display revealing the social fabric of the county. A schoolhouse exhibit houses a display about early academies, public schools from 1830s, consolidation beginning in the 1920s, integration in the 1960s, and recent developments. Another exhibit features homes, churches, and social activities in town and country. A country store exhibit recreates this widespread feature of the past, showing some of the items that were found there.
The variety of ways people have made a living in the county is shown on the south wall, with artifacts ranging from a chicken coop and rabbit gum to various kinds of tools. Panels illustrate changes over the years as the family farm became mechanized and adopted business methods; grist and sawmills gave way to industrial growth brought by the railroad; and crafts and services moved from the home to professionals.
In addition to these permanent exhibits, changing exhibits from the museum collection will be displayed.