Yoga Garden Events and Classes
February 7 @ 4:30 pm

-

5:30 pm

|

Recurring Event

(See all)

One event on January 29, 2023 at 3:00 pm

One event on January 30, 2023 at 4:30 pm

One event on February 6, 2023 at 4:30 pm

One event on January 24, 2023 at 4:30 pm

One event on January 31, 2023 at 4:30 pm

One event on February 7, 2023 at 4:30 pm

One event on January 28, 2023 at 1:00 pm

One event on January 30, 2023 at 6:00 pm

One event on February 27, 2023 at 6:00 pm

One event on March 27, 2023 at 6:00 pm

One event on February 5, 2023 at 4:00 pm

One event on February 12, 2023 at 4:00 pm

One event on February 19, 2023 at 4:00 pm

One event on February 26, 2023 at 4:00 pm

One event on February 4, 2023 at 5:00 pm

One event on February 10, 2023 at 6:30 pm

One event on February 11, 2023 at 1:30 pm

One event on February 19, 2023 at 1:00 pm
Find the complete list on their event page. *Please note that proof of vaccination is required for in-studio classes. Staying at one of our B&B inns or homes? Look into the 'free friend class' program at Yoga Garden Pittsboro.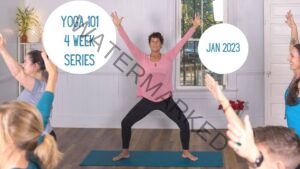 Sundays, Jan 8-Jan 29, 3pm-4pm Yoga 101 Series with Susan Bone
If you are curious about yoga or interested in revisiting yoga foundations, this four-week series is for you! Yoga is for anybody and everybody. Explore yoga in a safe, fun, relaxed environment. Learn basic postures (asanas), breathing (pranayama), and relaxation and meditation techniques. Come explore, play, and move in a supportive environment. Written materials and resources are offered to support your understanding of what is taught in class.
Mondays, Jan 9-Feb 6, 4:30-5:30pm Kids Yoga Ages 8-12 with Aviva
This five-week series is designed for preteens to develop healthy habits to combat our fast-paced life. Mindfulness techniques empower kids to self-regulate, build confidence and learn how to relax. Yoga postures promote body awareness, coordination and strength. This class provides healthy physical activity in a noncompetitive, nonjudgmental and supportive environment. $75 for the five-week series or $16 for a single class. Preregistration required.
Tuesdays, Jan 10-Feb 7, 4:30-5:30pm Kids Yoga Ages 4-7 with Amanda
In this five-week series, children will learn yoga poses, breathing, and relaxation exercises which cultivate a calm mind, increase strength and flexibility, improve gross and fine motor skills, improve concentration, and help them understand how to identify and manage their feelings. Stories, music, and games will be incorporated into this fun, non-competitive class. Each class ends with a period of relaxation. $75 for the five-week series or sign up for a single class for $16. Preregistration required.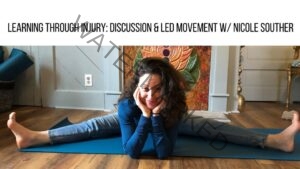 Sat, Jan 28, 1pm-2pm Learning Through Injury: Discussion and Led Movement
Injuries are common. While many cases result in complete recovery and normal functioning, many people harbor residual pain and tightness long after an incident has occurred. This often develops into a self-limiting narrative displayed in avoidance and fear-based movement patterns. However, injuries also provide a unique learning opportunity to open one's practice, explore one's experience in a movement, and develop a deeper connection to the intelligence of the body.
This workshop seeks to expand on this optimistic outlook and offers suggestions for working with remnants of old and new injuries to strengthen the mind-body connection. Students will learn about what happens in the mind and body after an injury, while Nicole discusses ways to work with injuries to identify limiting patterns of thought and movement and improve overall function. Whether your injury is bothering you or not, this workshop will help you gain knowledge from your experience that you can incorporate into your yoga practice.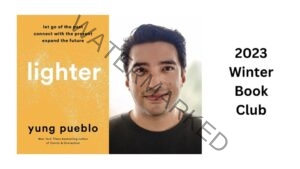 Mondays, 6pm-7:30pm: Winter Book Club – Lighter by Yung Pueblo Jan 30, Feb 27, Mar 27
The Yoga Garden PBO monthly book club is centered on spirituality & conscious living. Join them monthly for inspiration, discussion, community, and connection. They're devoting their winter book club (Jan-March) to Lighter: Let Go of the Past, Connect with the Present, and Expand the Future by Yung Pueblo: "A radically compassionate plan for turning inward and lifting the heaviness that prevents us from healing ourselves and the world, from the New York Times bestselling author of Clarity & Connection."
Donations gratefully accepted but not required. Please RSVP by registering on MindBody under Events & Workshops. There is a guided journal that accompanies the book with exercises and prompts based on the book's teachings. This is a helpful tool for discussion but is completely optional. Much gratitude to Yoga Garden community member Stephanie Winegar for organization & facilitation.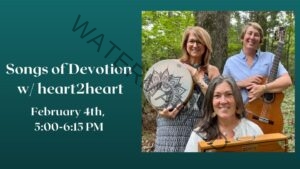 Sat, Feb 4, 5pm-6:15pm Songs of Devotion with heart2heart
Prayerful singing and chanting is a natural human expression of spiritual love and joy, practiced throughout the ages, throughout the world. Please join the heart2heart team of Amy Durso, Sheila Fleming and Lolly Dunlap as they lead you in the uplifting and healing practice of devotional singing with mantras, prayers, words and sound (those who are familiar with the devotional singing ceremony known as Kirtan will recognize this format).
Discover your own voice and the strength of community with simple mantras, songs and prayers from many sources and traditions. You'll be provided with text and guided musically into sacred chants. Together we will create a powerful container for increasing positive energy, attracting blessings, and deepening our connections with spirit. No prior or musical experience required. Come with an open and curious heart.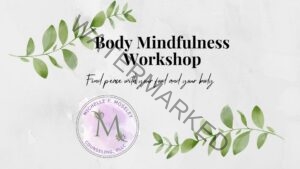 Body Mindfulness Four-Week Series, 4pm – 6pm Feb 5, Feb 12, Feb 19, Feb 26
Body Mindfulness is all about reconnecting with your body and finding your inner intuition around nourishment and movement. This four-week workshop will incorporate concepts of mindfulness with an introduction to Intuitive Eating and Health at Every Size. Participants will have opportunities to participate in both discussions and various movement options, in addition to receiving information to take home and utilize in the future. This workshop provides a unique opportunity to work on healing your relationship with food and your body. The workshop is $300. Please preregister online.
Fri, Feb 10, 6:30pm-8pm Sound Ceremony with Garth Robertson
Garth humbly offers Sound Ceremony. A modality that combines sound and ceremony for a deep and meaningful experience. Guided by instruments from around the world, each person that is present co-creates the special container that we all use as a collective pathway into our deeper selves and our collective healing.
There are some mats and supports available at Yoga Garden, but please feel free to bring whatever you need to be comfortable on the ground for over an hour. If there is anything specific you'd like support with during the session, please let Garth know before the ceremony begins.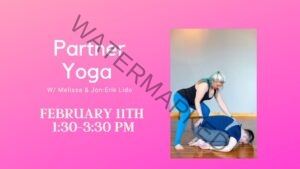 Sat, Feb 11, 1:30pm-3:30pm Partner Yoga with Melissa and Jon-Erik Lido
Bring a partner, bring a friend! All levels welcome! You will work with a partner to explore poses in depth and support each other in discovering the dynamics of different poses. Relying on trust and communication, partner yoga is a great way to practice surrender, empathy, balance and to have fun! $50 per couple. $40 per couple early bird discount ends Feb 4.
Sun, Feb 19, 1pm-2pm Grief in Motion
Join Yoga Garden PBO and heart2heart as they cultivate specific practices that help you find ease in your bodies and minds. Your time together includes guided movements taken from the Kundalini yoga tradition, breath-work, stillness, and conversation, plus live music and sound.
Movements are tailored to support the strong emotions associated with grief that we undergo in the body and the mind. You will explore prescriptive breathwork, which you help us relax physically and mentally, as well as restore the relaxation response in your central nervous system, to counter the effects of hyperarousal that can be brought on by grief. This recalibration allows you to build new neural pathways to prevent your minds from falling into old patterns of physical and emotional pain. They will also include periods of stillness that allow for integration of the physical and emotional work. These sessions conclude with a voluntary opportunity to share for those who wish to do so.
Related Events