Starrlight Mead Events
February 11 @ 12:00 pm

-

6:00 pm

|

Recurring Event

(See all)

One event on March 4, 2023 at 10:00 am

One event on March 11, 2023 at 10:00 am

One event on February 18, 2023 at 12:00 pm

One event on February 4, 2023 at 12:00 pm

One event on February 5, 2023 at 11:30 am

One event on February 11, 2023 at 12:00 pm

One event on February 12, 2023 at 1:00 pm

One event on February 19, 2023 at 1:00 pm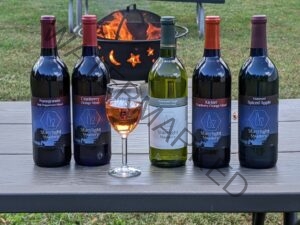 Upcoming events at Starrlight Mead
A Visit With Friends – CLAWS, 12pm-4pm Jan 29, Feb 18
What a fun opportunity to bring your family to the meadery to see these special guest visitors! CLAWS is bringing its group of winged friends to the meadery for a visit! See owls, hawks, and Grip the Raven up close and personal and learn more about the efforts of this great non-profit!
Sat, Feb 4, 12pm-4pm Valentine's Pop Up
Come out for mead and do some Valentines or Galentines shopping! Silver Prophecy Jewelry is ready for the holiday and has handmade sterling silver jewelry. Have a fun afternoon with this sip and shop event. Perfect for couples or besties that want to hang out.
Sun, Feb 5, 11:30am-12:30pm February 2023 First Sunday Sound Bath
Every first Sunday, the cathedral-like acoustics in the tasting room of Starrlight Mead bring a sense of reverence and play to these sessions. Think of it like non-dogmatic sonic church. Please bring your own yoga mat, cushions, and comfort items. To attend, please RSVP to [email protected]. There is $20 admission for this event. If you are able, please use Venmo (@AncientSongTherapy) or PayPal (paypal.me/AncientSongTherapy) or make other arrangements.
Sat, Feb 11, 12pm-6pm and Sun, Feb 12, 1pm-5pm Mead and Chocolate
Starrlight Mead is going to team up chocolate and mead for a special offering for Valentine's Weekend! Bring in your honey, your friends, or your Gal-entines and enjoy some chocolate paired with your tasting! $10 for eight samples and two chocolates. No reservation needed.
Sun, Feb 19, 1pm-4pm Fairy Hair for Everyone!
Come add some sparkle to your life! Starrlight Mead will host their favorite fairy, Pittsboro's own Fairy Elizabeth, coming to sparkle you up! You need to shine and Finklepott's Fairy Hair will be here to help you out! Signup page for appointments here!
Sat, Mar 4, 10am-1pm Beginning Home Mead Making Class
Always wanted to learn to make your own meads at home? Love the idea of giving something yummy and homemade to friends? Scared to mess it up? You will be taken step-by-step through the process of making a "cyser" (honey and apple). You will learn how to properly sanitize and about the equipment needed to make a great homemade mead! You will take home your own gallon of mead, made during the class, with instructions on what to do with it when you get home. No mead making experience necessary. All class participants MUST be over 21, no exceptions.
Sat, Mar 11, 10am-1pm Intermediate Home Mead Making Class – Oaking, Additives, and Other Fun Stuff
In this intermediate class, you'll learn about various additives and when to use or not use them, as well as different acids and when acid additions may be necessary. The class will also cover various methods to oak meads and the differences between French and American oak and sample meads aged with chips from each of these different types. Your registration fee includes mead tasting with various oak, tannin, and additives. All class participants must be over 21, no exceptions.
Related Events