Events at Dovecote Style
March 29 @ 10:00 am

-

June 1 @ 5:00 pm
Dovecote Style and NEST host a series of much-anticipated trunk show series every spring and fall giving customers an opportunity to meet our designers, view their offerings in depth and often place special orders. This season, we are excited to to welcome back some of our favorites, and to introduce you to what are sure to become your new favorites.
Fri, Mar 29 & Sat, Mar 30: Frank & Eileen and Teelab

Frank & Eileen is a story of love.  The company was named in honor of Audrey McLoghlin's grandparents, Frank & Eileen McLoglin, who began their love story when they married in Co. Wicklow, Ireland in 1947.  The collections are produced with the finest Italian fabric with a fit and quality that is unlike anything else on the market. For casual everyday wear, Frank & Eileen is: The best shirt. Ever. If you've experienced this brand, you know it is hard to stop at one shirt! Learn more about Frank & Eileen and Teelab.
Wed, Apr 3: Bittersweet

Bittersweet Designs is an exceptionally beautiful collection of hand-made jewelry pieces created by Santa Fe artist and designer, Laurie Lenfestey.  This was one of the first jewelry lines we brought to Dovecote when we decided to branch out into apparel and accessories in 2009 – which says this marks our 10th year of Bittersweet bliss!  Join us for this not-to-miss event. Learn more about Bittersweet.
Fri, Apr 12 & Sat, Apr 13: My Maggies

Designer and inventor Margaret Sinclair joins us from Dallas with her arsenal of multipurpose magnetic "no-sew" fasteners designed to securely fasten fabrics together without pins, knots, damage or alternation! I have been wishing for something like this forever!  Come "snap" with us as we explore this fun, ingenious product! Learn more about My Maggies.
Sat, Apr 20 & Sun, Apr 21: Saint James

When I feel like channeling my summer "inner French girl," I turn to Saint James for century old, quintessential nautical French style at its best. This iconic brand embodies classic style and spirit – rooted in sport, travel, family, friends and celebration. A must for your summer wardrobe! Learn more about Saint James.
Fri, Apr 26 & Sat, Apr 27: Haute Papier
Join us in welcoming Sarah Meyer Walsh and Erin Miller to NEST this weekend with their extraordinary range of personalized stationery options from flat printing to foil stamping to letterpress – from sophisticated to whimsical – from super-luxe to ultra practical – ALL gorgeous!
Fri, Apr 26 & Sat, Apr 27: Vitamin
One of the best jacket designers out there when it comes to polished, easy less-structured shapes when you want to be comfortable yet look "dressed." Great special occasion options for warmer weather! Learn more about Vitamin.
Fri, May 3 & Sat, May 4: Ann Lightfoot
Ann Lightfoot joins us this season with her stunning collection of jewelry inspired by the raw, organic, natural materials with which she creates. Post-modern, elemental and feminine, each piece is resolutely handmade and deeply individual. Ann's jewelry reflects her interest in other cultures and her time living and working abroad. This collection is elegantly cool and serene – a breath of fresh air. Cannot wait for this one – always a favorite!
Click here to learn more about Ann Lightfoot.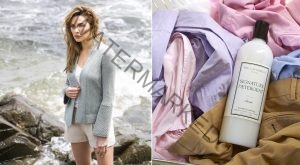 Related Events