Chatham County Parks and Recreation Events
August 1 @ 7:00 am

-

6:00 pm

|

Recurring Event

(See all)

One event on April 28, 2023 at 6:00 pm

An event every week that begins at 6:00 pm on Monday, repeating until May 22, 2023

One event on May 16, 2023 at 9:15 am

One event on May 23, 2023 at 9:15 am

One event on May 30, 2023 at 9:15 am

One event on June 6, 2023 at 9:15 am

One event on June 13, 2023 at 9:15 am

One event on July 10, 2023 at 7:00 am

One event on July 11, 2023 at 7:00 am

One event on July 12, 2023 at 7:00 am

One event on July 13, 2023 at 7:00 am

One event on July 14, 2023 at 7:00 am

One event on July 17, 2023 at 7:00 am

One event on July 18, 2023 at 7:00 am

One event on July 19, 2023 at 7:00 am

One event on July 20, 2023 at 7:00 am

One event on July 21, 2023 at 7:00 am

One event on July 24, 2023 at 7:00 am

One event on July 25, 2023 at 7:00 am

One event on July 26, 2023 at 7:00 am

One event on July 27, 2023 at 7:00 am

One event on July 28, 2023 at 7:00 am

One event on July 31, 2023 at 7:00 am

One event on August 1, 2023 at 7:00 am

One event on August 2, 2023 at 7:00 am

One event on August 3, 2023 at 7:00 am

One event on August 4, 2023 at 7:00 am

One event on August 7, 2023 at 7:00 am

One event on August 8, 2023 at 7:00 am

One event on August 9, 2023 at 7:00 am

One event on August 10, 2023 at 7:00 am

One event on August 11, 2023 at 7:00 am

One event on August 14, 2023 at 7:00 am

One event on August 15, 2023 at 7:00 am

One event on August 16, 2023 at 7:00 am

One event on August 17, 2023 at 7:00 am

One event on August 18, 2023 at 7:00 am
Information. Contact: Mallory Peterson. Upcoming events and programs from Chatham County Parks and Recreation.
Chatham County Parks and Recreation Events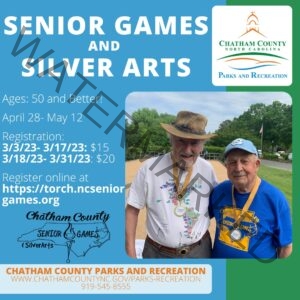 Fri, Apr 28-Fri, May 12 Senior Games and Silver Arts
Registration Deadline: Fri, Mar 31
Age Range: 50+
Cost: $20 per person.
Compete in pickleball, track, basketball shoot, tennis, bocce, golf, and more! Artwork for Silver Arts is due the week of Mon, Apr 24. Register online at https://torch.ncseniorgames.org or stop by the Senior Centers to pick up a paper form.
Fri, Apr 28, 6pm-8pm Sunset Learn to Paddle
Location: Farrington Point Boat Ramp
Registration Deadline: Wed, Apr 19
Age Range: 10+
Cost: $30
Come learn the basics of canoeing and kayaking before going on a sunset trip around Jordan Lake and finishing the evening with S'mores. Participants will meet at Farrington Point Boat Ramp. No experience is needed. All supplies provided.
Mondays, May 1-May 22, 6pm-7pm Arts and Crafts
Location: Chatham Grove Community Center
Registration Deadline: Thu, Apr 27
Age Range: 6-10
Cost: $30
Join Chatham County Parks & Recreation for a four-week youth art and crafts program. Participants will create fun projects each week using a variety of materials.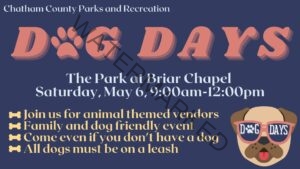 Sat, May 6, 9am-12pm Dog Days
Location: The Park at Briar Chapel
Join Chatham County Parks and Recreation for this animal-themed event at the Park at Briar Chapel. Save the date, more information to come! Animal-themed vendors, family, and dog-friendly event. All dogs must be on a leash.
Tuesdays, May 16-Jun 20, 9:15am-10am All About Animals
Location: Chatham Grove Community Center
Registration Deadline: Mon,May 8
Age Range: 3-5
Cost: $30
This class will explore the animal kingdom from mammals to fish to birds and everything in between through stories, fun facts and features, and a themed craft each week. Ages 3-5.
Mon-Fri, 7am-6pm, Summer Camps
Location: Northwest District Park
Age Range: 5-14
Cost: $55 per week.
Chatham County Parks and Recreation Summer Camp is a traditional-style summer camp featuring activities like swimming, boating, fishing, archery, crafts, outdoor games, indoor games, and more. Registration opens Fri, Mar 31 at 10am.
Application for Counselors is open until filled.
Application for Junior Counselors closes Fri, Mar 31.
Related Events