Celebrity Dairy Farm Events
October 20 @ 10:00 am

-

November 18 @ 5:00 pm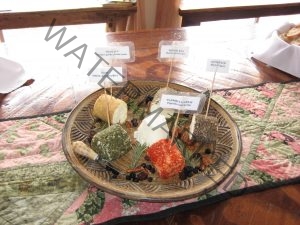 Oct 20, 1.30pm
Fall Color at the Farm
The third Sunday of each month, we share our passion for seasonal and local food with just 30 people in a sit-down five course dinner. We always start with a bit of socializing over goat cheese appetizers with seasonal changes. Guests are invited to bring their favorite wine or beer to accompany dinner. An after-dinner barn tour allows guests to meet the Celebrity goats, and to let dinner settle before enjoying dessert and coffee. Reservations, 919.742.5176.
October dinner celebrates the colors and flavors of fall: apples, pumpkins and squash, sweet greens, which all happen to go very well with the award-winning goat cheese.
Menu
Hors D'oeuvre
Sparkling Cider | Avocado Crostini | Stuffed Mushrooms | Goat Cheese Platter
Butternut Squash Soup
Warm Goat Cheese Salad with Local Microgreens
Roasted Piri Piri Chicken
Cracked Potatoes with Vermouth
Coriander Roasted Root Vegetables
Pumpkin Cheese Cake with Pumpkin Butter
Tea and coffee
$60 per person (includes tax and gratuity). You are invited to bring your own wine or beer to enjoy with your meal. We are happy to make menu adjustments for vegetarian diners.
Important note: Eventbrite's refund policy regarding fees has changed. If you purchase a ticket but later request a refund, the fee charged by Eventbrite will not be refunded.
Volunteer work days on the farm (First Sunday, monthly). Volunteers will have the opportunity to:
– Learn the basics of caring for dairy goats.
– Cuddle and feed goat kids (mid-January through March).
– Participate in special events held by The Inn at Celebrity Dairy.
– Get that satisfied feeling from a good, dirty day's work.
– Scratch lots of friendly goats between the ears.
Open Work Day and Potluck the first Sunday of every month!
Celebrity Dairy is an NC GreenTravel business, a unique bed and breakfast, in part because of the goats in residence. The buildings date to the 1820s, with six guest rooms. Hosts Brit and Fleming Pfann are proud of their Modern Greek Revival farmhouse and original settler's log cabin. They use traditional French farmstead methods to transform milk into quality chevre, sold locally to markets, stores, and restaurants. Guests are welcome to learn the art of milking goats at Celebrity Dairy. Breakfast is always the most important part of the farm day-omelets or frittatas and fresh-baked breads or muffins served with goat cheese and homemade preserves. An invigorating hike is an ideal activity following breakfast, anywhere through the sprawling 320 acres of mixed hardwood forest full of birds and wildlife. Children are welcome at this "Goat Hilton."
Related Events