Celebrity Dairy Farm Events
April 21 @ 10:00 am

-

May 20 @ 5:00 pm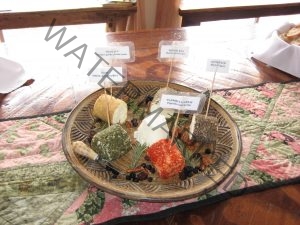 Sat, Apr 20, 9am – Pancake Breakfast and Easter Egg Hunt
Sun, Apr 21, 1:30 pm – Monthly farm-to-fork dinner (menu below).
Mon, Apr 29 – Full Moon Bonfire and Goat Walk
Sun, May 12, Mother's Day – Monthly farm-to-fork dinner
Sun, May 19, Graduation Celebration – Monthly farm-to-fork dinner
Sun, June 16, Father's Day – Monthly farm-to-fork dinner
Apr 21 menu: Happy Easter
Orange blossoms
Chef's choice appetizers
Duck and avocado cream crepes
Anderson's micro green salad, topped with toasted almonds, our chevre and vinaigrette
Roasted lamb, redskin potatoes
Asparagus with dill sauce
Mint jelly
Parker house rolls
Cappuccino custard with cinnamon swirl cookie
Tea and coffee
$60 per person includes Tax and gratuity
By reservation only. Please feel free to bring a bottle of wine to complement the meal.
Third Sunday dinners, open barn events, and more at this working farm and venue. Family-friendly, farm-to-fork meals, goat cheese, soaps, hiking trails, tours to see the goats (the celebrities at this inn), and other activities and features make this bed & breakfast worth the trip. The Inn is part of the Heart of NC Trails. We always start with a bit of socializing over goat cheese appetizers with seasonal changes. Guests are invited to bring their favorite wine or beer to accompany dinner. An after-dinner barn tour allows guests to meet the celebrity goats, and to let dinner settle before enjoying dessert and coffee. We are able to accommodate all food allergies and dietary.Reservations, 919.742.5176 or email.
Volunteer work days on the farm (First Sunday, monthly). Volunteers will have the opportunity to:
– Learn the basics of caring for dairy goats.
– Cuddle and feed goat kids (mid-January through March).
– Participate in special events held by The Inn at Celebrity Dairy.
– Get that satisfied feeling from a good, dirty day's work.
– Scratch lots of friendly goats between the ears.
Open Work Day and Potluck the first Sunday of every month!
Celebrity Dairy is an NC GreenTravel business, a unique bed and breakfast, in part because of the goats in residence. The buildings date to the 1820s, with six guest rooms. Hosts Brit and Fleming Pfann are proud of their Modern Greek Revival farmhouse and original settler's log cabin. They use traditional French farmstead methods to transform milk into quality chevre, sold locally to markets, stores, and restaurants. Guests are welcome to learn the art of milking goats at Celebrity Dairy. Breakfast is always the most important part of the farm day-omelets or frittatas and fresh-baked breads or muffins served with goat cheese and homemade preserves. An invigorating hike is an ideal activity following breakfast, anywhere through the sprawling 320 acres of mixed hardwood forest full of birds and wildlife. Children are welcome at this "Goat Hilton."
Related Events