Author Events at McIntyre's Books
July 14 @ 1:00 pm

-

4:00 pm

|

Recurring Event

(See all)

An event every week that begins at 10:30 am on Thursday, repeating until April 30, 2024

An event every month that begins at 2:30 pm on day First of the month, repeating until June 7, 2023

One event on April 30, 2023 at 2:00 pm

One event on May 6, 2023 at 1:00 pm

One event on May 6, 2023 at 2:00 pm

One event on May 13, 2023 at 1:00 pm

One event on May 20, 2023 at 2:00 pm

One event on May 27, 2023 at 1:00 pm

One event on May 28, 2023 at 2:00 pm

One event on June 3, 2023 at 1:00 pm

One event on June 10, 2023 at 1:00 pm

One event on June 17, 2023 at 2:00 pm

One event on June 17, 2023 at 1:00 pm

One event on June 25, 2023 at 2:00 pm

One event on July 10, 2023 at 1:00 pm

One event on July 11, 2023 at 1:00 pm

One event on July 12, 2023 at 1:00 pm

One event on July 13, 2023 at 1:00 pm

One event on July 14, 2023 at 1:00 pm

One event on August 5, 2023 at 1:00 pm

One event on August 12, 2023 at 1:00 pm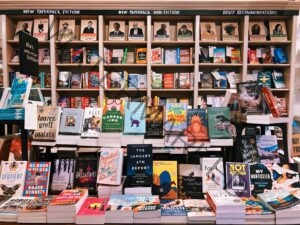 More Events at Fearrington Village. More about McIntyre's. Calendar of author events at McIntyre's Books.
Fabulous poets and authors are featured on occasion for readings and events.
Thursdays, 10:30am – 11am Storytime with Johanna Banana
The books and songs they share are primarily for toddlers and preschoolers, but all ages are welcome. The list of the books they read each week is on this page of their website.
Wednesdays, 2:30pm-4:30pm, Writer's Office Hours with Margot Lester May 3, Jun 7
Writers of all ages and abilities can stop by the Writer's Room and ask Margot anything! She'll tap her decades of experience as an award-winning journalist and author to answer your questions — and, if you like, offer feedback on your work. Margot can help, whether you want to author a memoir, produce a better school project, craft an online dating profile, write a report for work, or pen something entirely different. No reservations are necessary, just drop in. And it's free!
Learn more about Margot Lester and check out The Word Factory blog.
Author Events at McIntyre's Books
Sat, Apr 29, 11am-12pm Daniel Wallace, This Isn't Going to End Well: The True Story of a Man I Thought I Knew
Sun, Apr 30, 2pm-3pm April NCPS Poetry Reading with Len Lawson and A.E. Hines
Sat, May 6, 11am-12pm Michelle Cassandra Johnson, We Heal Together: Rituals and Practices for Building Community and Connections
Sat, May 6, 2pm-3pm Stephen Fairchild, Katherine Fairchild, and Lyn Fairchild Hawks present Thrillers, Women's Fiction, and Young Adult Novels with Music by Greg Hawks
Sat, May 13, 11am-12pm Gene R. Nichol, Lessons from North Carolina: Race, Religion, Tribe, and the Future of America
Sat, May 20, 11am-12pm Peggy Payne, My Life on Earth and Elsewhere
Sat, May 27, 11am-12pm Rinker Buck, Life on the Mississippi: An Epic American Adventure
Sun, May 28, 2pm-3pm May NCPS Pottery Reading with Jenny Bates, Angell Caudill, and David Dixon
Sat, Jun 3, 11am-12pm Sarai Walker, The Cherry Robbers
Sat, Jun 10, 11am-12pm SA Cosby, All the Sinners Bleed, and Eryk Pruitt, Something Bad Wrong
Sat, Jun 10, 2pm-3pm Cynthia Graubart, Zucchini Love
Sat, Jun 17, 11am-12pm Sara E. Johnson, The Bone Riddle
Sun, Jun 25, 2pm-3pm NCPS Reading with Sam Barbee + Ana Pugatch
Mon-Fri, Jul 10-Jul 14, 1pm-4pm Teen Writing Camp with John Claude Bemis
Sat, Aug 5, 11am-12pm David Joy, Those We Thought We Knew
Sat, Aug 12, 11am-12pm Elizabeth D. Hilborn, Restoring Eden: Unearthing the Agribusiness Secret That Poisoned My Farming Community
Related Events